Summer Essentials: Kiehl's Super Fluid UV Defense Sunscreen Review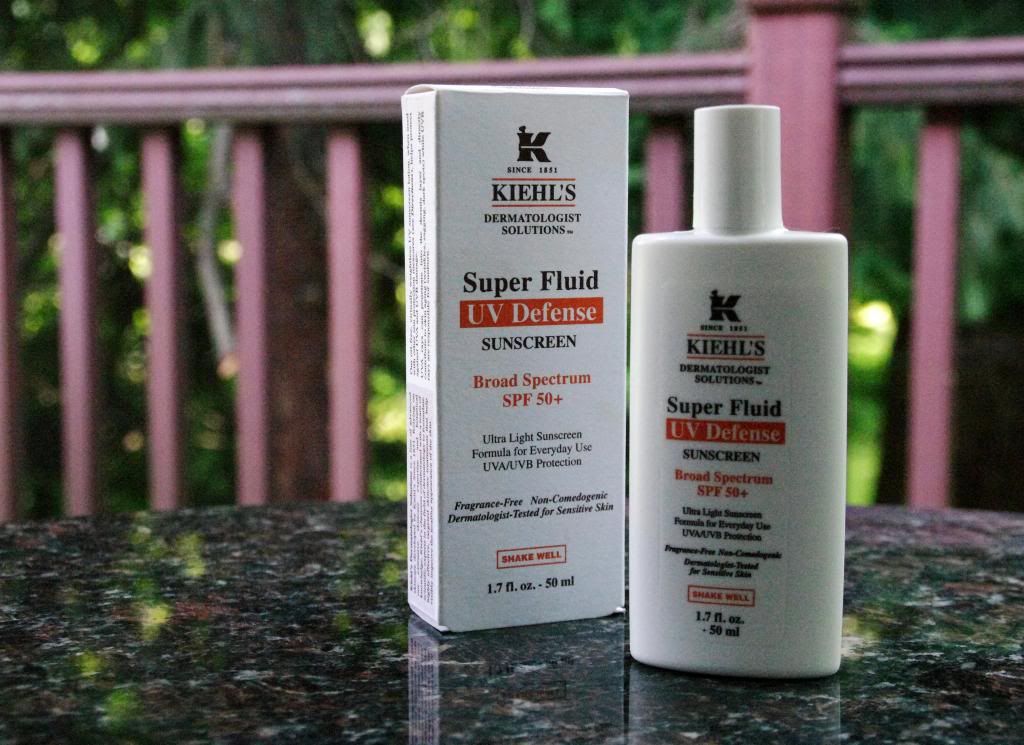 I've grown up in a time where there is plenty of awareness about the dangers of sun exposure and the importance of a good sunscreen. I have distinct memories, though, of reading articles in magazines and thinking, eh, I'm too young. I don't have to worry about this for a few years. I'll worry about it when I'm in my 20's. Well, folks, my 20's are here. And they're already flying by. This week was my 22nd birthday. Wait, WHAT?!?! It's officially happened. I'm a 20 something.
So, this summer I decided it was time to face the facts, I'm a real adult now and I can't put off good anti-aging (not to mention skin saving) skincare behavior and longer. This summer I committed myself to applying sunscreen daily.
For me this is no small thing. I've had a long standing hate-hate relationship with sunscreen for years. To give you some perspective on how big of a deal daily sunscreen is for me I will enumerate my grievances with sunscreen and explain why I've put off wearing it regularly for so long:
1. It ruins a face full of makeup. Sunscreens always cause my makeup to slip and slide all over my face the second I walk away from the vanity. Don't even get me started on how big of a disaster this is when I'm sweating (oh hey there raccoon eyes!).
2. It feels bad. Like, really bad. I'm picky about feeling clean and even the smallest dab of sunscreen makes we count the minutes until I can wash it off.
3. It breaks me out. This is really my biggest grievance of them all. It's hard to see the big picture about the health and beauty benefits of sunscreen when at the end of the day you find big red blemishes staring you in the face.
Now, here's the reason I can't use these excuses to avoid wearing daily sunscreen anymore: Kiehl's Super Fluid UV Defense Sunscreen (SPF 50+).
In my 22 years of existence, no sunscreen has ever performed for me the way this one has. What makes this product so different?
First, this product is the thinnest sunscreen I've ever used. It comes out very thin, a bit thicker than milk but much thinner and runnier than a milkshake. While it's white straight out of the bottle it turns translucent immediately when spread onto the face, absolutely no rubbing or wrestling with the product required. The days of white, streaky sun screened noses are behind us, ladies!
The best part about this product is it is so thin that it doesn't leave any slipperiness or oiliness to disrupt my makeup. I apply this underneath my makeup primer (link to review of that product
here
) and it doesn't effect the look or wear time of my makeup at all. A sunscreen that you can barely tell is there, my favorite kind!!
The icing on top of the cake for me with this product is I have not experienced any skin irritation or breakouts from this sunscreen. Not one!
Needless to say, I'm sold. This sunscreen is on the pricier side at $38 for 1.7 fl. oz. but it is on par with other high-end facial sunscreens. Kiehl's Super Fluid protects against both UVA and UVB rays, is fragrance free and non-comedogenic. The biggest thing to remember when using this lotion is to SHAKE WELL before use. The active ingredients settle to the bottom of the container and need to be distributed every time you use it. You can purchase this sunscreen from the Kiehl's website
here
.
I hope you enjoyed this review!! Do you wear sunscreen daily? Why/why not? What kind do you use? Let me know in the comments below and leave me a link to your blog so I can come check you out!!
Also, please subscribe to my blog! I'm a brand new blogger and am having a lot of fun growing this site, and I also want to expand my online network. You can follow be on bloglovin' and I will be putting up links to rss feed and e-mail subscription soon!!
xoxo - Katie