MAC Temperature Rising Collection Swatches and Review
WHEW! That scorching hot promo pic for MAC's newest collection, Temperature Rising, always gets me feeling a little hot under the collar! Every once in a while one of MAC's collections really speak to me, and ladies, THIS IS IT!
I snagged a few treats from this collection when it launched on Thursday. If you like anything you see here, run, don't walk to your MAC counter! I have a feeling this collection is going to go quick!
The product I was most excited for from this release was the Bare my Soul eyeshadow quad. Out of the 4 shades, Romantico (a mid-tone bronzy brown), Bare My Soul (a shimmery deep gold) and Friendly (a deep chocolate brown) have excellent color payoff without having to work to hard to achieve the color's full vibrancy. When In Rio, the emerald green shade I was most looking forward to, surprisingly needed a lot of building up to achieve the deep shimmering green you see in the pan. I did experience some fallout with When In Rio, probably because I really had to pack it on. Despite the extra work, it does build to a beautiful, bendable shimmering emerald.
I also picked up Ripe For Love blush. This shade is a truly gorgeous pinked-up peach perfect for providing a healthy summer glow. It is well pigmented but very build-able, so this blush would be suitable for girls of all skin colors. Light girls like me just need to be sure to have a light hand and a great blending brush on hand!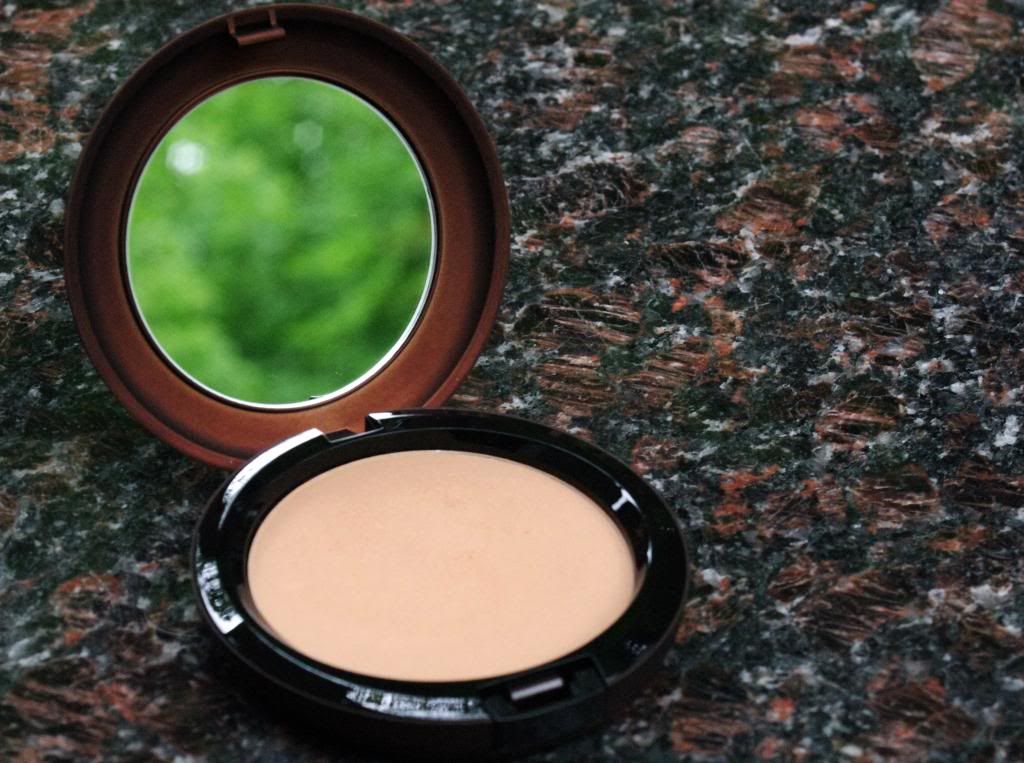 Seeing that summer is upon me but my skin still continues to blind in the light, I had to try out a bronzer from this collection. I picked up Pro Longwear Bronzer in Nude on Board, and it is hands down my new HG. The product itself if so soft, perfectly blendable, and the color is divine on my pasty white skin. It's light enough that I can apply it liberally (and by liberally, I mean I applied this baby basically everywhere) without looking even the least bit orange or overdone, just perfectly bronzed (as if I actually tan rather than burn in the sun!) I picked up the 167SE blush released with this collection to try out with my new bronzer, and it was perfect for applying and blending out the all over color. It also did an excellent job blending out Ripe For Love blush.
From left to right - Ripe for Love Blush one swipe, Ripe for Love Blush built up, Romantico eyeshadow, Bare My Soul eyeshadow, Friendly eyeshadow, When In Rio eyeshadow.
From left to right - Nude on Board 1 swipe, Nude on Board built up, Ripe for Love 1 swipe, Ripe for love Built up
I hope you enjoyed this review! Leave a comment telling me if you're thinking of picking anything up from this collection!
xoxo - Katie